New Editor's Note
Hello Everyone,
I'm Kristin Cianfichi, (MA in progress) and I'm happy to be this year's editor of Revise This! I hope you are entertained and informed by this latest edition. Please contact me at kristin.cianfichi@wilkes.edu if you have story suggestions, interview opportunities, or — best yet — would like to volunteer to write an article or two! Have a great fall as we head toward the end of this semester.
__________________________________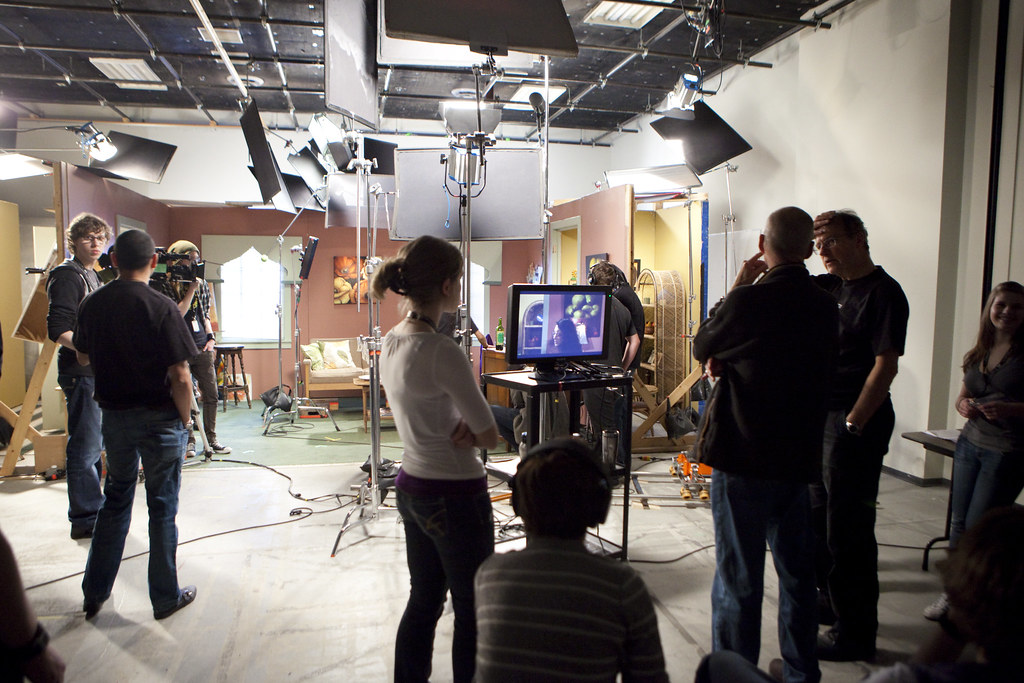 Photo Flickr/Creative Commons
This stock photo graphic depicts a student film class.
Lights.Camera.Action!
Screenwriting leads to filmmaking
After receiving a master's degree from the Maslow Family Graduate Creative Writing program at Wilkes University in May 2017, Cooper Gorelick obtained a full-time position teaching English at Cherry Hill West High School West outside Philadelphia the following spring. It's not surprising, then, that the teacher whose graduate studies focused on screenwriting found himself teaching filmmaking to high school students. Maybe.
"My only experience in film production or journalism was a theater and screenwriting background," he said, although he did help a fellow cohort edit his graduation film, "Why We Didn't Write."
Still, he had a vision. It didn't happen quickly. First, Gorelick incorporated two semesters of broadcasting into his teaching portfolio in September 2021. He then received tenure in March 2022. Despite his lack of experience, he wanted to expand the broadcasting curriculum to include the celluloid art form. He wanted to introduce students to visual storytelling through filmmaking.
In summer 2021, his Cherry Hill West supervisor and he began writing course proposals for two new broadcasting classes. Each class had writing and narrative film production components in place of news' broadcasts.
"Toward the end of that summer, we agreed that filmmaking should be its own course, and we submitted finished proposals for Broadcasting III, Broadcasting IV, and filmmaking to the school district's curriculum and instruction office. Of the three courses, only filmmaking was approved," Gorelick said.
Not enough students signed up for the elective last year for the class to be offered, but this year, eighteen students enrolled. After two years of work, Cherry Hill West students can take filmmaking, he wrote in an email. The class covers screenwriting, directing actors, cinematography, editing, sound mixing, and other elements of planning pre-production, filming, and post-production. Over the course of the year, students will build a portfolio of not only short films and scenes but also story ideas, outlines for feature-length work, and complete short-film scripts. Students also will collaborate with theater and creative writing students. At the end of the year, West will also have its first student film festival open to the public, which will showcase and celebrate the filmmaking students' work.
Dad-daughter dynamic duo
Editor's note: Greg and Samantha Dutcher are the first father-daughter duo in the Maslow Family Creative Writing Program. Greg started one semester before his daughter so that during the June 2023 residency, Dad was in Cohort 510 and daughter Sam was in 501. Those of us who are in Greg's group saw how he tried to hide his pride in his progeny. (Okay. That was a lie. We all knew how excited he was that she was there.) Now, thanks to these excerpts written by the two Dutchers, we see how that experience was for both of them.
GREG DUTCHER
"Don't be embarrassed, Dad. I'm sure there are other old people having a midlife crisis just like you." ~ Sam Dutcher
The morning I left to start my writer's residency at Wilkes University, I was a nervous wreck. At 52, I felt silly starting a new master's program to pursue my "dream of becoming a writer." I cringe even now using that tired old cliché. "The friends I have had since childhood are looking to retire, downsize their homes, or plan trips to Disney World with their grandkids. Needless to say, most people start their second act a decade sooner. That two-and-a-half-hour drive to Wilkes was an adventure in self-doubt. I felt like a poser… until I got Samantha's text when I stopped for gas.
"Dad, In all seriousness. I'm so proud of you for doing this. Love you."
That was a hell of a catalyst to get me back on 81 North.
I returned from my first residency like a man on fire. I could not stop talking about my transformative experience and the twelve new friends I just inherited. My wife had to draw boundaries for me. Friends or family members coming over to watch a game were not a platform for me to give them an infomercial. Apparently, everything in life did not relate to the power of story, character arcs, or the discipline it takes to write the next sentence. Got it. Even Samantha got in on the policing. "Dad, before you tell me something about Wilkes, can I tell you how my day was?" Ouch. Point taken.
My endless blather about my new life may have been annoying, but it was also contagious. Months after my first residency, Samantha shocked me: "Dad, I want to go to Wilkes. Will that cramp your style?"
That big reveal was one of the best gifts I have ever received. To be a fellow student with my young, hip, Tay-Tay-loving daughter was not something I had on my life bingo card. Doing our summer residency at the same time was one of the happiest weeks of my life. We should have at least four more together. It is like having two more Christmases each year.
If it were true confession time, I'd tell you that I think Sam may be a better writer than I am. She is one cohort behind me, so my peers should never find out. I will tell them that I am inspiring her to shine. Of course, the real story is that she is doing that for me.
SAMANTHA DUTCHER
I was nervous about going to school with my dad. He already has a master's degree, has taught at the college level, and founded a church that has thrived for more than twenty years. His writing is intimidatingly good, and the first reaction I had when David Hicks called me telling me "I was in," was pure excitement. But the intrusive thoughts came later that night, "Shit, people are going to think I'm a 'nepo' baby."
The energy my dad brought to my home after coming back from winter residency was electric…and annoying. He would not shut up about the community of friends he encountered (specifically his bromance with Terry Dwyer) and how he said the week was like a spiritual experience, a realignment of happiness. Of course, I made fun of him for this. I thought this was his midlife crisis. Who goes back to school to write a screenplay about time travel at 52 years of age? Honestly, my teasing was merciless.
But something kept gnawing at me, the thought that passes your mind when you see a person so unfettered by opinions and so confidently passionate about something others would find stupid, and you whisper to yourself, "I want what that guy has."
Entering the creative writing program at Wilkes was non-negotiable. I had to do this. I think I would have been a fool to see my father's joy and not jump in because I was scared people might think I did not get in on my own merit, that nepotism was the cause and not my talent. The first day I got to Wilkes, I tried to hide it from people. I told them I didn't know anyone in the program. I had no idea what residency was going to be like. My colleagues were excited and anxious, but I – because of Greg – was just excited.
When you see the 6'4 giant bald guy walking around campus, his voice is the loudest in any room. You pretend to be embarrassed, but really, all you want to do is introduce your new cohort best friends to "Greg," as I called him throughout the week. And then, he makes them laugh, your face beams, and you call him "Dad."
So, I have a co-captain on this journey. Because, secretly, he cares more about where my writing takes me than where it takes him. So, it's safe to say, I'll still call him out at the next residency when he embarrasses me, but you'll definitely know I'm his daughter this time.
Maslow Family Graduate
Creative Writing Program Updates
Full House
Our beloved program continues to thrive. At the last residency, we had 103 students on campus!
New Track: Writing for Television
We're excited to announce the establishment of a "Writing for Television" track. Students interested in studying television scriptwriting will begin with our Screenwriting foundations course, then write a TV pilot for their MA thesis. TV writer Alice O'Neill (Billions) will introduce the track at our winter residency and mentor any interested students beginning Spring 2024.
New Faculty
We're excited and proud to announce the hiring of the following new faculty:
Alice O'Neill, Writing for Television https://www.imdb.com/name/nm1721968/
Ursula Villarreal-Moura, Fiction: https://www.ursulavillarrealmoura.com/
Gabrielle D'Amico, Screenwriting: https://www.imdb.com/name/nm9857400/
Billie Tadros in Poetry: https://www.billiertadros.com/
Welcome to the team!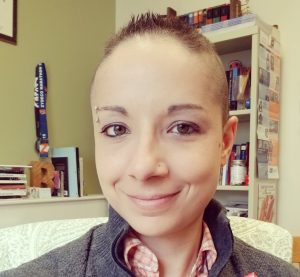 Billie Tadros
A New Stage for Our Playwrights
We are proud new sponsors of the Chicago Dramatists  and the Scranton Fringe Festival, the latter of which will be featuring one of our graduating playwrights every year. A few weeks ago, many of us watched the world premiere of Nicole Duncan's play, Madam & Eve, and next up will be the world premieres of plays written by MFA students Ruth Connors and Mandy Pennington.
Kinsman Quarterly
Wilkes University's Maslow Family Graduate Creative Writing program has been instrumental in the inspiration for Kinsman Quarterly, a collaboration of several Black, Indigenous, and People of Color (BIPOC) alums/students from Wilkes, including Wayne Benson, Julie Danao Silkin, Nicole Negron, Hess Love, and Monique Franz. The Kinsman is an online publication to celebrate, support, and amplify BIPOC voices and underrepresented writers. Since its launch, the journal has received the Reedsy Best Writing Contest award, resulting in subscriptions from the United Kingdom, India, Switzerland, Zambia, Ghana, Malawi, Nigeria, Kenya, Morocco, Nepal, Brazil, and the United States.
Publishing graduate
Cynthia Kolanowski graduated with a Master of Arts degree. She is our first MA in Publishing graduate in many years.
FACULTY UPDATES
Bonnie Culver's play, "A Ticket to the Circus," a one-woman play based upon the Norris Church Mailer memoir A Ticket to the Circus, completed 18 streamed performances in July 2023. Directed and produced by Michelle Danner, the play starred Academy Award nominee Anne Archer.
Gregory Fletcher's short story "Ismene in Venice" is included in the new anthology The Night Bazaar: Venice, published by Northampton House Press.
Lenore Hart, editor of the next edition in The Night Bazaar anthology series, announces the release of Volume Two, The Night Bazaar Venice: Thirteen Tales of Forbidden Wishes and Desires, (Northampton House Press). She also has a story in this volume called, "Plenty of Fish in the Sea." Short stories by Wilkes alumni Dana Miller, Corinne Nulton, Frances Williams (writing as Aphrodite Anagnost), and Carol MacAllister, and faculty members Kaylie Jones and Gregory Fletcher, are featured as well. Hart also has two poems, "Looking into the Eyes of a Woman I Must Tell She's a Writer" and "Hypatia in the Library," in American Writers Review 2020 (San Fedele Press), as well as two poems, "The Well-Shooter's Wake" and "On Visiting the Castle of My Drawn and Quartered Ancestor," in *Footnote 4: A literary Journal of History (Alternating Current Press).
David Hicks's children's book, The Magic Ticket, will be published in June 2024 by Fulcrum Press, and his novel, The Gospel According to Danny, will be published by Vine Leaves Press in May 2025.
Ross Klavan has a new novella published by Down & Out Books. It's another in a series of noir crime stories, this one titled, "Cut Loose All Those Who Drag You Down." It's part of a compilation–three authors, three crime novellas– called Third Degree.
J. Michael Lennon and two colleagues, Jerry Lucas and Susan Mailer, have completed several years of work on Norman Mailer's 1954 – 1955 marijuana journal, which he titled "Lipton's." It will be published by Skyhorse Books on Mailer's 101st birthday, January 31, 2024. It is Mailer's remaining unpublished work. He died in 2007. Sixty-thousand words in length, the volume will include an index, some illustrations, an introduction, and notes.
Laurie Loewenstein announces Funeral Train (2022), part of her Dust Bowl mystery series, was recently named a Silver Falchion Finalist. Silver Falchion awards are presented annually by The Killer Nashville International Writers' Conference.
Nancy McKinley was to give a reading from St. Christopher on Pluto (a novel in stories) at the College of the Holy Cross in Worcester, MA on October 28. She is featured in the documentary, "Lighting the Way," about women who attended the historically male college.
Jean Klein, an "84-year-old diva of a playwrighting, and a faculty member," has a new play. Klein is also the founder of Blue Moon Plays, which provides plays for schools, community theater, and professional theater.
Nicole Pandolfo's play, "Aerosol Dreams," has been published by Next Stage Press.
David Poyer announced the publication of the trade paper edition of Susan Mailer's memoir In Another Place: With and Without my Father, Norman Mailer, available worldwide beginning September 1. The 2019 hardcover was critically praised, and the new edition contains all the text and photos of the original edition. It is also available in e-book. Poyer also published a short story in the latest edition of the second volume of Night Bazaar dark fantasy anthology. Set in 1348, the year the black plague arrived in Italy, "The Thousand Injuries of Fortunato" prequels Edgar Allen Poe's "The Cask of Amontillado" in explaining exactly why Fortunato richly deserved to be bricked up in Montresor's catacombs.
Nisha Sharma's second romantic comedy Tastes Like Shakkar, the second installment in her Shakespeare adaptation series, was released on August 1. It received a starred review and was an Amazon Editor's Pick.
STUDENT/ALUMNI UPDATE
Jillian Bennett (MA in progress) published an essay in Philadelphia Stories titled, "The City of Brotherly Love."
Judy Castleberry (MA in progress) announces her creative nonfiction piece, "My Atomic Vet," was included in the Holes in Our Hearts anthology, a project of the Southwest Writers, funded by a grant from New Mexico Arts. She also participated in a reading that was featured in the Albuquerque Journal.
Cindy Dlugolecki (MA 2007) premiered her latest short play, "The Red Dress," as a staged reading at the Cicada Festival in Mt. Gretna, PA, in August 2023. During October she entertained with a presentation of Talking Tombstones to visitors of Chestnut Hill Cemetery with the stories of eight residents who have been "resurrected" to share their stories of living and dying in Mechanicsburg.
Terrence Dwyer's (MA in progress) third textbook, Homeland Security Law: Issues & Analysis, is scheduled for national release on December 22, 2023. His latest short play, "House Warning," written for the CW 505 foundation course on playwriting, was produced by the Brewster Theater Company on September 22-24, 2023. The play was one of seven chosen for production after a blind reading of entries from across the U.S., Canada, and internationally.
Cooper Gorelick (MA 2017) is teaching screenwriting at Cherry Hill West High School near Philadelphia, drawing upon the focus of his master's degree with a focus in screenwriting. (See top feature story)
Krista Harner's (MFA 2008) 100-word story "Matthew" placed in the top ten stories of the Final Round of the New York City Midnight Microfiction Challenge. From an original field of more than 6,000 writers worldwide, her story received 7th place.
Andrew Janov's (MFA 2009) second poetry collection, "Short Skirts and Whiskey Shots," has been published by international publisher Earth Island books. This collection is deeply rooted in the people and the streets of New York City. It thrives in the bars, the clubs, the tenements, the subway. It explores the idiosyncrasies, the innocence, the excesses of the city.
Jennifer Jenkins (MFA 2017) recently signed with an agent at Birch Literary after completing her second manuscript.
Margaret McCaffery's (MA 2015¬) personal essay, "Waiting for Beckett," was accepted by Oxygen, an Australian poetry magazine, volume 6 2023.
Melanie McGehee (MA in progress) is writing book reviews for MER, an online literary mag for moms and should have two published by the time of this update. She also had three poems accepted at The Dead Mule School of Southern Literature for their January 2024 issue.
Michael Mortimer, (MA 2016) self-published his first novel, The Town Crier. Available on Amazon, Barnes & Noble, or the website thetowncrierbook.com.
Gil Rosado (MA 2020) is working on his off-hours as a religion and philosophy columnist with Patheos.com. Patheos is the largest English-language religious and spirituality website in the world with over 30 million page views annually.
Hess Stinson (MA in progress) was accepted as a poetry fellow for Roots. Wounds. Words – Words of Resistance and Restoration program.
Wilkes Presidential Award
Wilkes President Greg Cant honored six members of the Wilkes University faculty and staff with the President's Awards for Excellence during the opening of school Convocation ceremony in August. The awards represent the University's five core values: innovation, scholarship, diversity, mentorship, and community. David Hicks, Director of Creative Writing at Wilkes, won the Presidential Award for Diversity from Wilkes University.